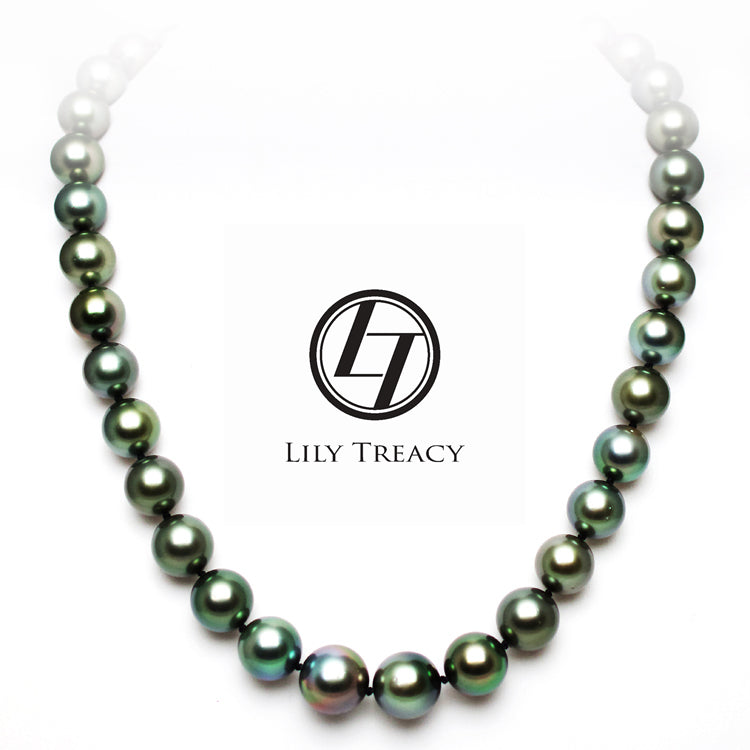 LILY TREACY 10-14MM TAHITIAN PEARL GRADUATE STRAND IRINE NECKLACE
LILY TREACY 10-14MM TAHITIAN PEARL GRADUATE STRAND IRINE NECKLACE
$6,975.99
Jewelry Information 
Item Name: Lily Treacy 10-14mm Tahitian Pearl Graduate Strand Irine Necklace
Item Description:10-14mm large Tahitian Pearl Graduate Strand Necklace with 14K Solid White Gold Clasp
Item SKU: PNTWI001GY
Main Gem Type: Sea Pearl
Main Gem Name:Tahitian Pearl
Country of Origin:Tahiti, French polynesia
Surface markings or Blemishes: very clean
Main Color: Black
Overtone: Peacock Green
Size:10-14mm
Shape: round
Luster:AAA+
Mollusk: Pinctada margaritifera
Nacre thickness: thick
Clasp Material: 14K solid White gold
Necklace Length:18″
Metal Stamp: 585
Good to know: This item is also available in 10.2 - 15.5 mm Tahitian Pearl.
Packaging: Luxury hand-made Box with Lily Treacy Logo, authenticity guaranteed
Certification: All of our Lily Treacy fine jewelry/pearl products come with our "Certificate of Authenticity", which guarantees that the pearls and jewelry you receive are 100% genuine, and exactly like what they are stated in the Listings. Each certificate is signed/stamped by our pearl expert both from our Japanese farm and Lily Treacy company, details the pearl type and country of origin of your pearls.