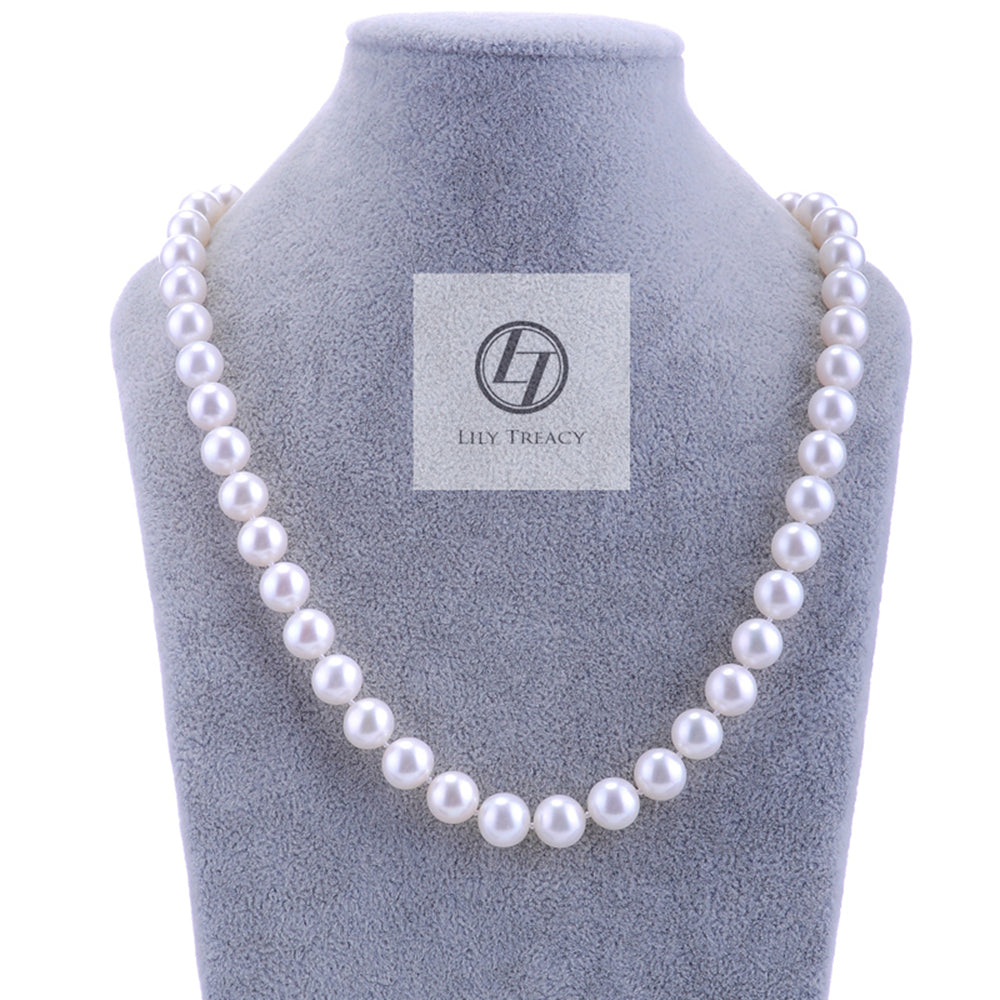 Lily Treacy 11-12mm Top Quality white Freshwater pearl necklace strand with 14K solid gold clasp 18″
Lily Treacy 11-12mm Top Quality white Freshwater pearl necklace strand
$489.99
SPECTACULAR FRESHWATER PEARL NECKLACE WITH SOLID GOLD CLASP
MUCH PRETTIER IN PERSON!
A freshwater pearl necklace strand of this size is very rare. This pearl necklace consists of round pearls in the top quality of freshwater pearls, and they are individually hand-picked for their fine quality from the top 5% of the entire annual harvest in far east. You can be rest assured that they are going to be a favorite for generations for their fine quality and durability!
Jewelry Information Item
Description: 11-12mm White Freshwater Pearl Strand Necklace with 14K solid Yellow Gold Clasp, 18″ in length
Main Gem Name: Freshwater Pearl
Surface markings or Blemishes: they are natural gems, 99% of the pearls have very clean surface, only one or two have natural growth marks, and hardly to been seen with naked eyes from distance.
Main Color: white
Over tone: gentle baby pink
Size: 10-12mm
Shape: round
Luster: AAAA
Mollusk: Freshwater Mussels
Nacre thickness: very thick
Clasp Material: 14K Solid Yellow Gold Clasp
Necklace Length: 18″
R.R.P. (Recommended Retail Price): 1699.- You save 70%
Packaging: Luxury handmade Box with Lily Treacy Logo, authenticity guaranteed;
Free Gift: Included with this item is a complementary pearl jewelry polishing cloth, giving you the ability to maintain these necklaces' elegant beauty for years to come.
Certification:  All of our Lily Treacy fine jewelry/pearl products come with our "Certificate of Authenticity", which guarantees that the pearls and jewelry you receive are 100% genuine, and exactly like what they are stated in the Listings. Each certificate is signed/stamped by our pearl expert both from our Japanese farm and Lily Treacy company, details the pearl type and country of origin of your pearls.